All Events
Chocolate Art
Beech Boggin!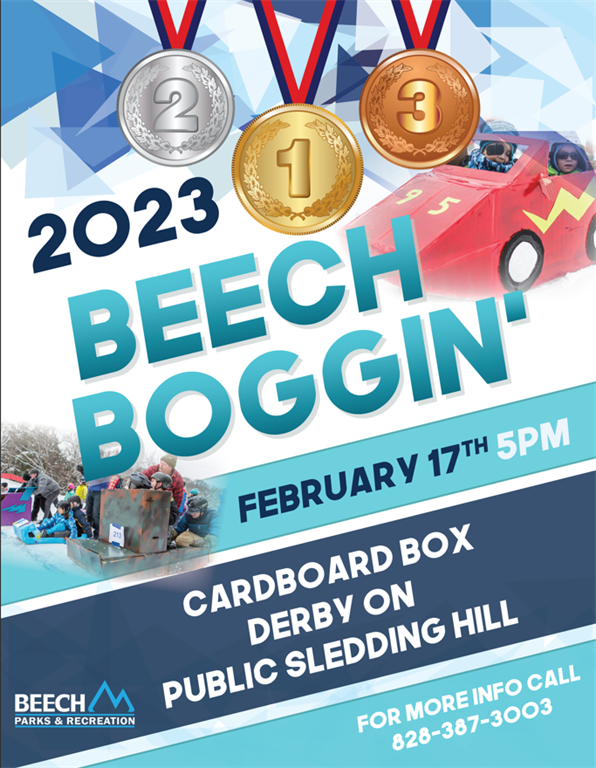 Its all downhill from here!
Join Beech Mountain Parks and Recreation on a journey you won't forget! Design and build a human-powered, cardboard sled capable of withstanding the descent down Beech Mountain's Sled Hill. We'd love for teams, businesses, and individuals to strut their stuff in the downhill derby of the winter.
Beech Boggin Rules!
Beech Mountain Boggin' Rules
"It's all downhill from here!"
When: Friday, February 17th , 2023 @ Sled Hill, Beech Mountain
Registration is day of - 4:00 P.M. Races Begin: 5:00 P.M.
What: Design and build a human-powered, cardboard sled capable of withstanding the descent down Beech Mountains Sled Hill. Competition is secondary. For safety, you must follow these rules. For fun, you need to follow them.
All sleds must pass an inspection before they are allowed on the hill.
Sleds must be free of sharp edges, pointy objects or any other feature that may be deemed dangerous by inspectors. If you are unable to remove such objects, your sled will not be allowed to race.
ONLY cardboard may be used, held together with tape and glue.
ABSOLUTELY NO USE OF THE FOLLOWING:
Epoxy glue or Epoxy-reinforced cardboard
Tar-based substances
Fiberglass resin
Two-part varnished or any other two-part substance
Screws, nails or staples of any type or material similar
IMPORTANT: You must be able to stop your sled. These rules are designed for your safety, fellow participants descending the hill behind you and for all the people watching.
All participants must read, understand, and agree to the rules before registering their sled.
Teams/individuals whose sleds do not pass inspection will not be allowed to participate.
We encourage the use of protective headgear, but is not required.
No more than ten occupants will be permitted on any one sled.
To qualify as a finisher, your/entire team must be in or on your sled as it crosses the finish line, rather than chasing it or being chased by it.
The top finishers in each heat may be allowed to race more than once, depending on the condition of their sled and the decision by the judges.
If you wish to race against another sledding team, this will be accomplished following the conclusion of all scheduled heat races. Talk with officials at the Registration Desk
Summer Camp 2023 - Check out our Summer Camp Tab for Registration!